Duradek rooftop decks add value
About Duradek of Utah
For more than a decade Duradek of Utah has been working with local contractors, builders and designers adding value through outdoor living options. As we urbanize, land values increase and the building designs begin to go vertical. Making use of the roof can provide tremendous views, while allowing a relaxing enjoyable entertaining area.
With more than 43 years' experience and proven track record Duradek allows you to think outside the norm and get creative in your design. From a beautiful exposed membrane system to a fully warranted Tile system (Tiledek) we bring you a long lasting, relaxing environment with a peace of mind that Duradek has you covered.
Duradek of Utah is an Authorized Duradek Distributor for Utah, Southern Idaho, Northern Nevada and Northern California.
Duradek of Utah is an authorized Duradek Distributor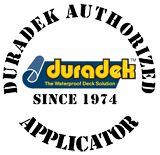 Duradek Authorized Contractors receive a combination of training: floor laying skills for appearance and single-ply roofing skills for water tightness. Thorough knowledge of adhesives, sealants, coatings, carpentry & concrete restoration work are common traits of a Duradek contractor. All Duradek products, when applied by an authorized contractor, are covered by written warranties.
REQUEST A QUOTE